This article is about how to update or Unbrick Wiko WAX manually, this guide need computer to run the update. This guide can be use for Wiko WAX only, don't attempt to try this on other devices. This guide has possibility to brick your device and make you lost your IMEI so please do backup preparations before following the step in this guide.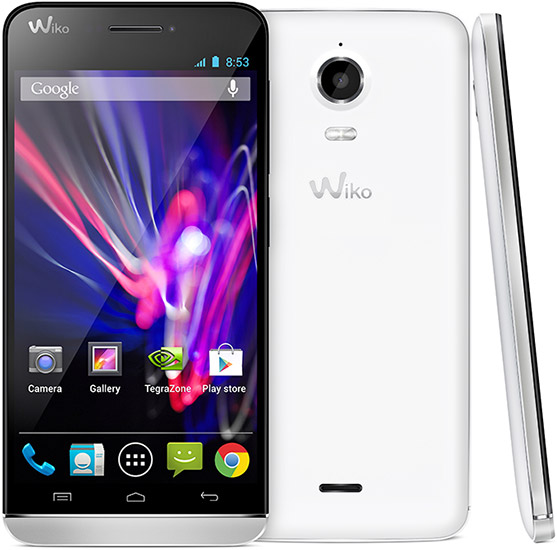 How To Update Firmware Or Unbrick Wiko WAX  Base on NVidia Tegra Chipset
Disclaimer :
This guide for educational purpose only, We not responsible if your device bricked after following this tutorial. ( DO WITH YOUR OWN RISK )
Step 1 : Preparation
CAUTION ! Before you begin the update of your phone, be sure to back up all your personal data (save all your contacts in your SIM card or your Google account and your pictures on your PC). The upgrade erases all data and resets your phone.
If you have Windows 8 or Windows 8.1, perform the steps presented in the following link : https://learn.sparkfun.com/tutorials/disabling-driver-signature-on-windows-8/disabling-signed-driver-enforcement-on-windows-8
• Turn off the phone (its battery must be fully charged)
• Micro USB cable (supplied in the box)
Step 2 : Launching the update software
1. Download the firmware file at : WIKO_WAX_KitKat_V14.zip
2. Extract the installation file on your desktop
3. Run the installation software
4. A security message appears on your screen, click «Yes» in order to load the driver.
5. An installation window opens, (the installation may take up to 5 minutes), if it does not launch, please disable the user account control by referring to the following link : http://www.howtogeek.com/howto/windows-vista/disable-user-account-control-uac-the-easy-way-on-windows-vista/
6. CAUTION! If you have PC with Windows 8, you have to manually install the driver.
• PC with 32Bit OS: go to C:\TNvflasher\tool\usbpcdriver\dpinst.exe and click on dpinst.exe
• PC with 64Bit OS: go to C:\TNvflasher\tool\usbpcdriver\dpinst64.exe and click on dpinst64.exe
Installation message appears on your screen, click on "next" and follow the instructions.
Step 3 : Installing the update
1. When the software starts, turn off your phone and click «Download»
2. When the «Download» button is grayed out,
long press the Volume + button on your telephone, and at the same time, connect your turned off phone to your PC using the USB cable.
3. The update process begins (a)… Caution, a descriptive message will appear on your screen (b) during the update. This is normal update process, it is not an error.
(a)…
(b)…
4. The update is now completed, disconnect the phone from your PC. Your phone will restart automatically.
Step 4 : Verifying the update
In order to check if the update was successful:
1. Please access the numeric keypad on your phone
2. Enter the following: *#563412*#
3. Verify that you have the latest version (see the software installation version) in the menu «Wiko build version»
4. The update is now completed, disconnect the phone from your PC. Your phone will restart automatically.
Congratulations!
You have completed the update 🙂

Source : wikomobile.com